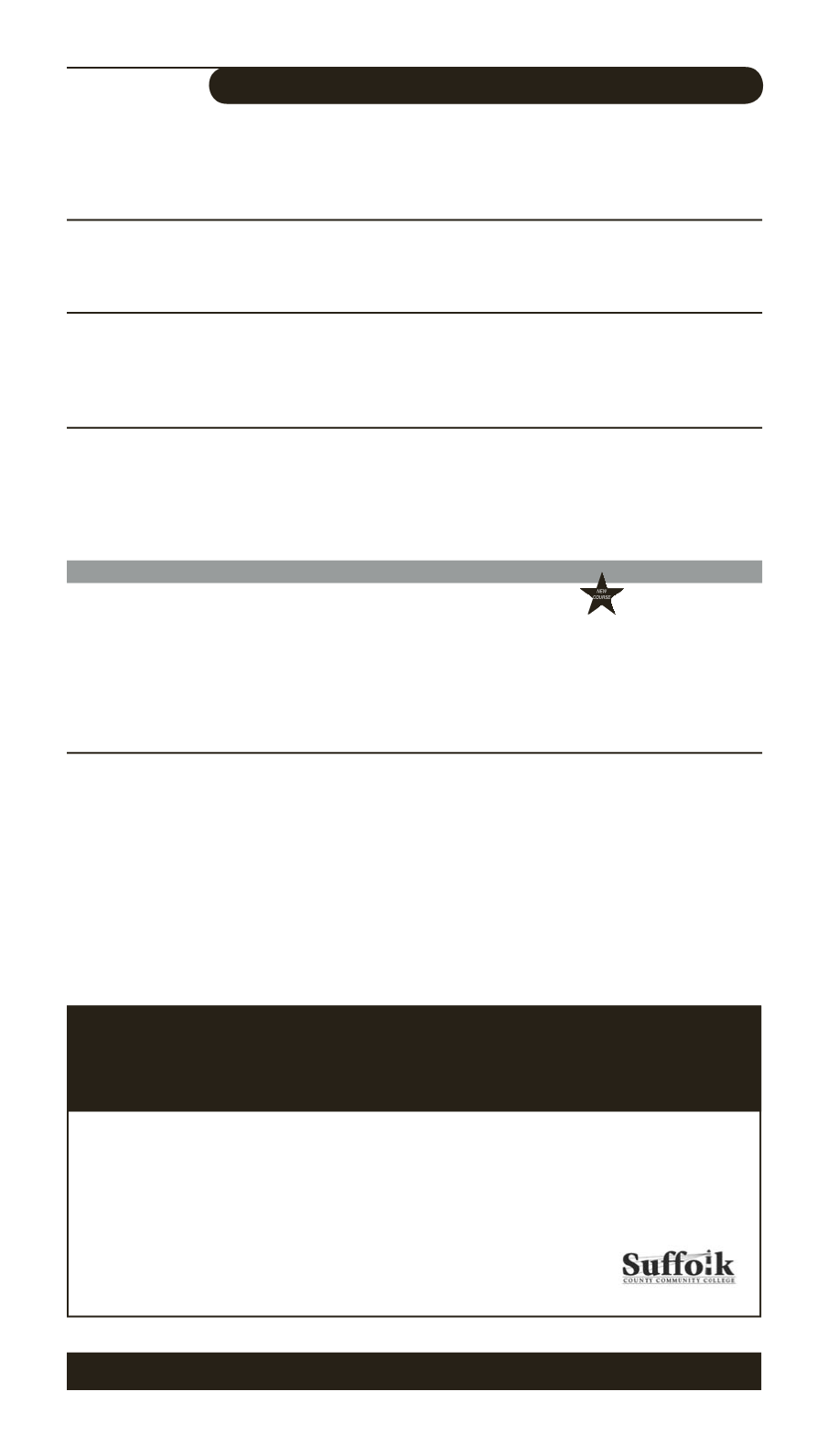 *Course Carries Student Accident Insurance Fee of $9.00
Please check updated course information at
sunysuffolk.edu
7
Professional Development and Continuing Education
XBS103 BASIC READING SKILLS BRUSH-UP
Tuition $144.00
Review the basics of reading comprehension. Techniques for identifying the main idea of a
paragraph and improving reading speed are covered. (4 meetings)
CRN CAMPUS
DAY
DATE
TIME
ROOM
33106 Ammerman Wednesday 2/7-2/28
6:00pm-10:00pm Islip Arts Bldg., 206
XBS105 BASIC MATH SKILLS BRUSH-UP
Tuition $144.00
Review the basics of arithmetic and algebra through practice exercises. (4 meetings)
CRN CAMPUS
DAY
DATE
TIME
ROOM
33107 Ammerman Thursday
2/1-2/22
6:00pm-10:00pm Islip Arts Bldg., 208
XBS108 IMPROVING YOUR WRITING SKILLS
Tuition $135.00
This course will cover both the theory and the practice of writing. These skills are essential to a
student's academic success. (5 meetings)
CRN CAMPUS
DAY
DATE
TIME
ROOM
33108 Grant
Mon/Tu
2/12-2/27
6:30pm-9:30pm
Sally Slacke Ctr., 105
XMA102 INTRODUCTION TO MATH FOR EVERYDAY LIFE
Tuition $150.00
This course will prepare students to perform a variety of computations needed to conduct basic
personal transactions. These skills are essential to a student's academic success.
(4 meetings)
CRN CAMPUS
DAY
DATE
TIME
ROOM
33109 Sayville
Tuesday
2/6-2/27
6:00pm-9:00pm
308
XPR107 CONSCIOUS PARENTING! HOW TO CONNECT
Tuition $85.00
MORE AND DISCIPLINE LESS
Learn the theory and practice of conscious parenting. This workshop will teach you how to
affect change and improve your child's behavior by recognizing and eliminating parenting
behaviors that are not serving your child's needs and focusing on those that will.
(4 meetings)
CRN CAMPUS
DAY
DATE
TIME
ROOM
33492 Sayville
Tuesday
4/17-5/8
7:00pm-8:30pm
308
XPR105 COMMON CORE SCHOOL MATHEMATICS
Tuition $108.00
FOR PARENTS AND GUARDIANS
This course will prepare adults to help children and teenagers understand the mathematics
they are learning in school. Changes in curriculum and lack of recall often render adults
helpless when they try to assist their children with mathematics. The course will explain topics
from elementary school mathematics through high school algebra. It will also illustrate the
variety of contemporary approaches that schools use to present these topics. (4 meetings)
CRN CAMPUS
DAY
DATE
TIME
ROOM
33110 Grant
Saturday
3/3-3/24
1:00pm-4:00pm
Sally Slacke Ctr., 102
Campus Kids
Children's Learning Center (Selden)
631-451-4388
Childcare for children ages 6 weeks through 5 years old
when day classes are in session
PARENTS AND CHILDREN
• Open to Suffolk Residents • Student Rates
• Licensed and NAEYC Accredited