The meeting of the Board of Trustees of Suffolk County Community College scheduled for August 21, 2014 will now be held at 3:00 p.m. in Room 114 in the Captree Commons building, on the Michael J. Grant Campus, 1001 Crooked Hill Road, Brentwood, NY. This notification revises the previous time and location announced for this meeting.
Organizational Charts
The link below opens to a multi-page pdf showing organizational charts for specific areas of the College. Click on the link and select the page for the area you wish to view.
SCCC Organizational Charts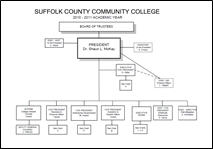 Last revised: 1/21/2011 Comments on this webpage, contact: Webmaster