For Immediate Release Share This News Release
7/27/2015

Artist Richard Mizdal, Master of Hyper-Realism, Show at Suffolk County Community College Aug. 27 - Oct. 24
Realist painter and master of hyper-realism Richard Mizdal will present an exhibit of oil paintings at the Eastern Campus of Suffolk County Community College's Lyceum Gallery August 27 – October 24.

Reality Check features Richard Mizdal's oil paintings in sizes up to six feet wide. Mizdal is a realist painter who has mastered the art of hyper-realism, a skill that he applies to create magic realities that harken to the surrealism of Rene Magritte, or the graphic illusionism of M.C. Escher. Mr. Mizdal often paints interiors that lead to exteriors using frameworks such a window, a trellis, or a ship's railing to lead the viewer to a new dimension. The artist renders framed reflections and incongruously scaled objects in "through the looking glass" worlds. The viewer may wander between realities and ultimately find that reality is in the eye of the beholder.

The Lyceum Gallery is located in the Montaukett Learning Resource Center on the Eastern Campus of Suffolk County Community College in Riverhead. An artist's reception will be held on Thursday, September 17 from 4 p.m. to 6 p.m. Refreshments will be served. The public is welcome.

Mizdal studied at the Skowhegan School of Painting in Skowhegan, ME and received an master's in Painting from New York University, and a bachelor's in Fine Arts Education from New Jersey's Montclair State University. He has participated in numerous exhibitions throughout eastern Long Island, New York City and Florida. His work is also in a number of private and corporate collections including AT&T and the California Museum of Photography. Mizdal is the recipient of the New York State Medal of Excellence for Teaching at the College Level for his work as a professor of Fine Art and Photography at Suffolk County Community College. For more information about the artist, please visit: http://www.richardmizdal.com/

Gallery hours are Monday-Thursday from 10 a.m. - 7 p.m., Friday from 10 a.m. - 4 p.m. and Saturday from 11 a.m. - 4 p.m. The Gallery is closed on Sundays and holidays (Exceptions: closed evenings after 4 p.m. on 8/27, 8/28, 9/22. Closed on 8/29, 9/5, 9/7, 9/14, 9/23)

Directions to the Eastern Campus: Take the Long Island Expressway to exit 70. Take County Road (CR) 111 four miles to County Road 51. Turn left toward Riverhead and go north on CR 51. After 3.5 miles, turn right onto Speonk-Riverhead Road to the campus entrance on the right. For further information, please call 631- 548-2536.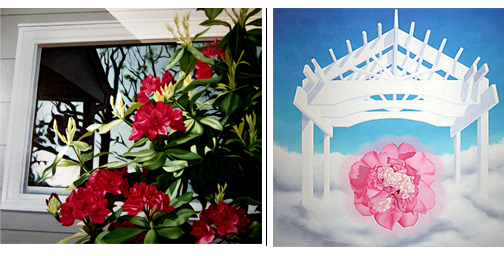 At left, Window Rhododendron, oil on canvas, 42"x 44" – by Richard Mizdal. Right, Crowned Camellia, oil on canvas, 54" x 54"