For Immediate Release Share This News Release
3/19/2015

Suffolk Designated Prestigious Toyota T-TEN Trainer For Long Island Metro/ New York City Region
Suffolk County Community College will be the first Toyota T-Ten certified school in the Long Island/New York City metro region and will be the standard for T-TEN training for the region. Suffolk will now train students be Toyota and Lexus ASE-Certified technicians. The program is designed to create a career path for students who will have the opportunity to move into leadership and educational positions.

Suffolk County Community College President Dr. Shaun McKay said that Toyota's designation is a big win for the college and Suffolk County.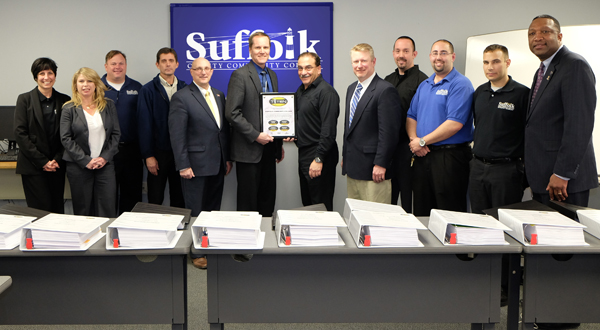 Suffolk County Community College and Toyota Motor Sales, U.S.A., Inc. representatives celebrate Suffolk's certification as T-TEN certified. In the foreground, a display of binders containing the voluminous amount of technical information technicians must master to become Toyota certified Master Technicians.


"Suffolk County Community College is now the single source for Toyota's T-TEN training in Long Island and the metro-New York City area," President McKay said, "and once students are certified and pass Toyota's rigorous tests, technicians are in high demand."

Suffolk County Community College student Gabriel Peralta of Miller Place is a first-year student in the Toyota program and said the new designation at the college by Toyota will open future doors to for him. "Suffolk and Toyota are providing me with a tremendous opportunity," Peralta said.

The partnership combines classroom and lab work at Suffolk County Community College with actual work experience at Toyota dealerships. When students graduate, they have a minimum of two ASE certifications.

Thanks to a significant investment in Suffolk's program, students train using the latest Toyota technology. Toyota has donated cars and equipment worth nearly $60,000 to Suffolk's program in the last year and nearly a half-million dollars in the last five years.