For Immediate Release Share This News Release
3/17/2015

Two From Suffolk Are Vanguard Award Winners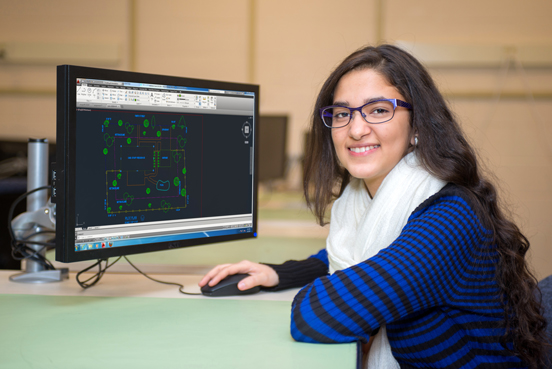 Vanguard Award winner Shailee Joshi of Coram.
Two Suffolk County Community College students, Shailee Joshi of Coram and Brianny Amaya of Bay Shore will be awarded prestigious Vanguard Awards from the Nontraditional Employment & Training Program (NET) at the Center for Women in Government & Civil Society at SUNY Albany.
"It is without question that we need to significantly increase the number of females in the STEM fields. Brianny and Shaliee are shining examples that not only do women have great success but are the leaders in their field," said Professor Peter Maritato who added that Shailee is an Engineering Science student and Brianny is studying Electrical Technology.

The Vanguard Student Recognition Award recognizes outstanding students who are enrolled in career and technical education programs that prepare them for careers that are not traditional for their gender.

Statewide, eight winners were selected from a pool of nominees.

The 2014 - 15 Vanguard Award winners will be recognized with a dinner in their honor on Thursday, March 26th; a breakfast ceremony on Friday, March 27th, and a videotaped interview with each of the awardees, which will be posted on the NET website. All of the festivities will be held at the Desmond Hotel in Albany, NY.

The Vanguard Award is administered by the New York State Nontraditional Employment & Training (NET) Program. The NET program is committed to promotion of gender neutral educational strategies and practices. The NET Program, is a program of the Center for Women in Government & Civil Society, and is funded through a grant from the NYS Education Department. www.netprogram.org