For Immediate Release Share This News Release
2/9/2015

Five from Suffolk Are on Technology Dream Team at NBA All Star Weekend
Five Suffolk County Community College students were selected from more than 30 from the East Coast to be part of The National Basketball Association's NBA-Cisco Dream Team at the 2015 NBA All-Star Game in New York City
| | |
| --- | --- |
| Justin Owens of Shirley, NY | |
| David Hachikian, East Northport, NY | |
| Jamie Silverman, Shoreham, NY | |
| Bryan Seidenspinner, Sayville, NY | |
| Raymond Thompson, Bayport, NY | |
will be setting up and maintaining all internet and wireless communications at the All-Star Basketball event this week and weekend.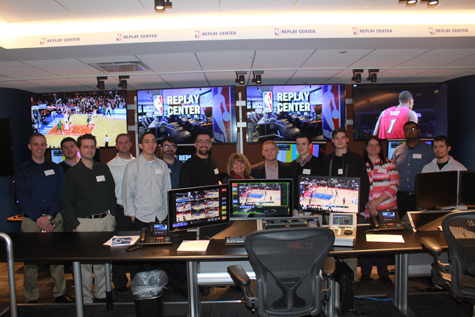 The students will spend this week learning the technology configuration and deploying it at the Barclay Center and Madison Square Garden. The NBA All Star weekend and games, February 13 -15 (http://www.nba.com/news/2015-all-star-schedule/) are a world class sporting event that will rely on the students to implement the computer network that will carry the event.
The Cisco classes at Suffolk County Community College are the courses developed by Cisco about teaching and preparing students for the CCNA (Cisco Certified Network Associate) exam. The courses teach students how to design, configure and manage an information technology (IT) network either in a local company or world-wide interconnection.
Suffolk County Community College's certificate program is designed to produce a Cisco Certified Network Associate (CCNA). The CCNA is recognized in the industry as a technical professional working with traditional Cisco-based networks that predominantly include local area network (LAN) and wide area network routers and LAN switches.