For Immediate Release Share This News Release
1/6/2015

Focused Imagination by The East End Photographers Group, January 20 - February 20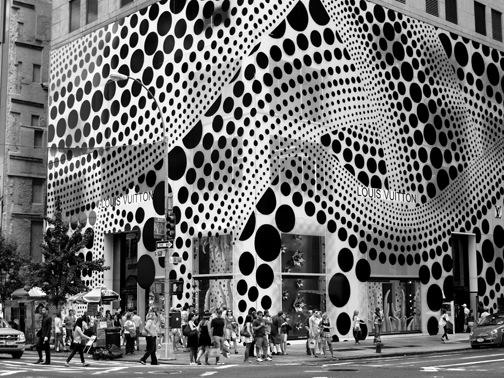 Digital photo by Ray Germann of Ridge, NY, Louis Vuitton Building, 13"x17"
Photographic works from more than 25 Long Island artists will be displayed in Focused Imagination by the East End Photographers Group. The show will be co-curated by Suffolk County Community College alumna Christina Stow at the Eastern Campus' Lyceum Gallery in the Montaukett Learning Resource Center, Riverhead. The exhibit will run from January 20 through February 20 with a reception, open to all, on Thursday, January 29 from 4:00 p.m. to 6:00 p.m. Refreshments will be served.

Stow has chosen more than 60 masterfully executed works, many containing landscape elements that show the beauty of Long Island beaches, the otherworldly terrain of western deserts, and the far reaches of India and China. All works demonstrate the top skill that the East End Photographers Group has historically achieved.

Stow completed her studies at Suffolk County Community College in May 2013, where she concentrated on both graphic design and photography under the tutelage of Professor Richard Mizdal and has had her photography and design published in the biannual Suffolk County Community College East End Elements literary arts magazine. In 2008 she had a solo show at the College's Eastern Campus entitled Film Stills which was favorably reviewed in The East End Beacon, the Humanities Department student newspaper. She has garnered a number of coveted accolades including an international exhibit held by the A.I.R Gallery in New York City in 2010.

At the East End Arts Council, located in Riverhead, Stow took first place for her photography in their 2012 Animals exhibit and third in their 2014 Line exhibition. Stow's work was also included in the Heckscher Museum of Art's 2012 Long Island Biennial.

The East End Photographers Group is a non-profit organization dedicated to providing a supportive community for photographers of all levels, providing a forum to promote the artistic development and technical knowledge of each individual member. The group boasts more than 100 members and is in its 27th year.

Gallery hours are Monday -Thursday from 10:00 a.m. - 7:00 p.m., Friday from 10:00 a.m. - 4:00 p.m. and Saturday from 11:00 a.m. - 4:00 p.m. The Gallery is closed on Sundays and holidays, including Martin Luther King Day and Presidents' Day.

Directions to the Eastern Campus: Take the Long Island Expressway to exit 70. Take County Road (CR) 111 four miles to County Road 51. Turn left toward Riverhead and go north on CR 51. After 3.5 miles, turn right onto Speonk-Riverhead Road to the campus entrance on the right. For further information, please call 548-2536.