For Immediate Release Share This News Release
11/17/2014

Suffolk Does The Cooking! Culinary Prepares 120 Dinners for Home Bound Seniors and Patients of Dominican Sisters of Hampton Bays.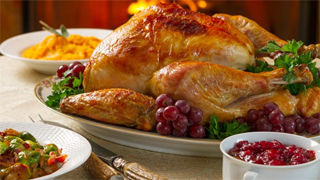 Suffolk County Community College's Culinary Arts program students will prepare about 120 dinners for long-term patients and home-bound seniors of the Dominican Sisters of Hampton Bays in what has become an annual and happy undertaking for the culinary program and its students. This marks the sixth year Suffolk County Community College has happily done the holiday cooking.
About 40 students and faculty chefs from the college's culinary program will gather at the Suffolk County Community College Culinary Arts & Hospitality Center in Riverhead on November 26 to prepare the meals whose ingredients were provided by the Dominican Sisters -- a dozen, 20 pound turkeys; 100 pounds of mashed potatoes; 50 pounds of sweet potatoes; 80 pounds of stuffing; 25 pounds of assorted vegetables and 18 each of apple and pumpkin pies. And, of course, gravy – 5 gallons of it!
Local elementary school students from East Quogue Elementary school will be making box trays for the holiday feasts to be delivered in.