For Immediate Release Share This News Release
11/6/2014

All Aboard the Electric Bus! College Gets Demo of Green Tech
An electric bus that can travel up to 120 miles on a charge was demonstrated in the Brookhaven Gymnasium parking lot at Suffolk County Community College's Ammerman Campus in Selden on Wednesday.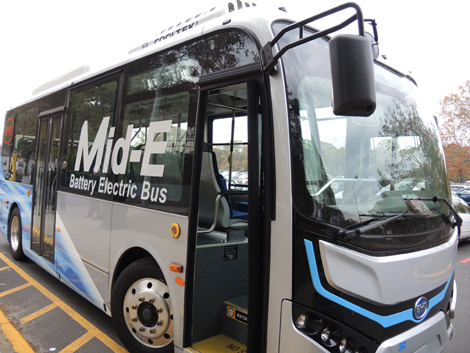 The College's Administration, guided by Executive Director of College Sustainability Programs Nicholas Palumbo, is researching alternative transportation means that will lessen the college's carbon footprint and save money.

The company, BYD Electric Bus, also demonstrated a fully electric compact sport utility vehicle (SUV) that could be used by college public safety officers.

Company officials said that using the electric bus instead of a traditional diesel would reduce carbon emissions equivalent to 33 automobiles.

The College has undertaken comprehensive steps to increase college wide energy efficiency and recently partnered with Cenergistic energy consultants to implement conservation efforts in more than 1,200 areas.

During the next five years, the College will work closely with Cenergistic's engineers and consultants who will provide hands-on training and program supervision. Energy use will be analyzed and monitored in classrooms, offices, athletic facilities, kitchens, and other areas of the College to ensure energy is being used efficiently. The program is expected to save the College and taxpayers more than $13 million during the next 10 years.

"Our adoption of comprehensive, college-wide program is further evidence of our commitment to conservation, sustainability and the reduction of our carbon footprint," said Suffolk County Community College President Dr. Shaun L. McKay." President McKay said that since 2000, the College has undertaken more than 50 energy saving projects including installing high efficiency heating and air conditioning, solar panels and L.E.D. lighting across the College's three campuses. "Every dollar we don't spend on energy is a dollar we save for educational programs and purposes," President McKay said.

No decisions about the purchase of an electric bus or SUV have been made by the college.