For Immediate Release Share This News Release
9/29/2014

Suffolk! Show Your Spirit and Support for Suffolk County Community College, Wear Blue and White on October 6, Send Us a Photo!
Suffolk County Community College kicks off its first ever Spirit Week on October 6 by encouraging all of Suffolk County to wear blue and white -- the College's colors -- on Monday October 6.
All students, administration, faculty, staff and Suffolk County residents are being encouraged to wear blue and white, and to then share their spirit by emailing a photo of themselves in blue and white attire to news@sunysuffolk.edu.
The College will share the photos on its Facebook, Twitter and Instagram channels to spread the Suffolk County Community College spirit!
Go Sharks!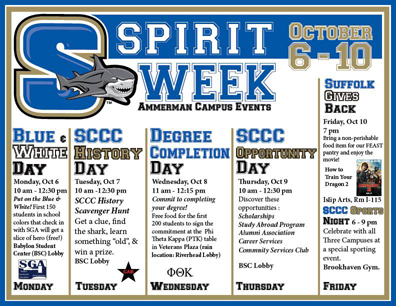 Suffolk County Community College has scheduled a week of engaging activities for its students during the College's first-ever Spirit Week, October 6 - 10.