Biography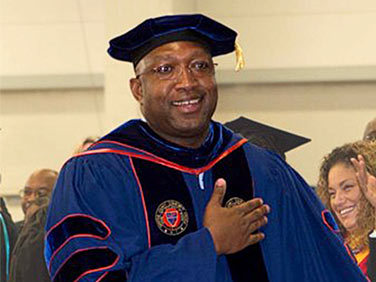 Dr. Shaun L. McKay is the President of Suffolk County Community College (SCCC), the largest community college in the State of New York (SUNY) system. SCCC is a comprehensive publicly-supported, two-year, open enrollment institution, with campuses in Selden, Riverhead and Brentwood, and downtown centers in Sayville and Riverhead. The College has a current enrollment of over 26,500 credit students and 10,000 continuing education students.

Prior to his current position, Dr. McKay served as Interim Executive Vice President for the College. In that role, he was the College's chief operating officer, with authority and responsibility for the planning, policy development, implementation and assessment of the College's programs and services. Dr. McKay joined the College in 2005 as the Executive Dean for the Michael J. Grant Campus in Brentwood.

During his career, Dr. McKay has garnered progressive academic and administrative experience, demonstrating significant career achievement in the areas of campus administration, academic program development, budget and finance, strategic planning, and institutional assessment. He has also taught both undergraduate and doctorate level courses at several institutions. Prior to joining SCCC, Dr. McKay served as Director of Planning for the Community College of Baltimore County and spent eight years in various positions at Morgan State University.

Active in national and local organizations, Dr. McKay has received numerous awards for distinguished service in higher education, including the prestigious John & Suanne Roueche Excellence Award from the League for Innovation. He serves as a Systems Appraiser for the Academic Quality Improvement Program (AQIP) of the Higher Learning Commission-North Central Association and served on the Editorial Board of the Journal of Student Affairs Research and Practice (JSARP). He was selected from among an international pool of applicants as one of 33 community college senior administrators to attend the prestigious Executive Leadership Institute sponsored by the League for Innovation. Dr. McKay participated with 19 public, private, and non-profit organizations from across the country to explore ideas and concepts in lifelong learning in order to formulate a policy agenda for the American Council on Education (ACE)'s Center for Lifelong Learning. He previously served as a member of ACE's Commission on Effective Leadership. Dr. McKay was a member of the faculty of the Future Leaders Institute through the American Association of Community Colleges (AACC) and for the Executive Leadership Institute through the League for Innovation. He also serves as a member of AACC's Commission on Diversity, Inclusion and Equity, as well as its Presidents Academy Executive Committee (PAEC).

Dr. McKay is a member of the Board Steering Committee for the Long Island Regional Advisory Council on Higher Education (LIRACHE), recently serving as Co-Chair of LIRACHE's Superintendent-College President Partnership. He is Co-Chair of the Long Island Regional Economic Development Council's (LIREDC) Education and Workforce work group, and a member of the Brentwood Chamber of Commerce. Dr. McKay serves on the nationwide steering committee and implementation team charged with moving forward on the recommendations and strategies proposed in the AACC's 21st-Century Commission on the Future of Community Colleges. He was also appointed to the State University of New York (SUNY) Remediation Task Force to address remedial education at the college level. Dr. McKay Co-Chairs the AACC's Legislative Committee for the African American President's Roundtable, where he advances national issues/policies for presidents from community colleges around the country.

He has also served as a member of the SUNY Chancellor's Advisory Group on Leadership and Professional Development, and has participated in the President's Leadership Academy offered by the Association of Community College Trustees (AACT). Before joining the administration of SCCC, Dr. McKay was appointed and served as the Chancellor's representative of the Community College of Baltimore County to the University Systems of Maryland/Maryland Association of Community Colleges (USM/MACC) Solutions Committee. This committee was responsible for follow-up activities associated with a capacity study for the State of Maryland.

Dr. McKay received his Ed.D. in Higher Education Administration with a specialization in Community College Leadership from Morgan State University in Baltimore, his M.A. in Management and Communication from the College of Notre Dame in Baltimore and his B.S. in Business Management from the University of Maryland, College Park. Dr. McKay has also received an honorary Doctor of Letters degree from St. Joseph's College. Dr. McKay is often invited to conduct professional presentations at national and international conferences on the topics of academic programming, enrollment management, retention, strategic planning, governance and administration, and workforce and economic development.