The College's Michael J Grant Campus in Brentwood has been selected as the venue for a speech by President Donald Trump on the subject of MS-13 gang violence, this coming Friday, July 28th. The speech will take place in the VanNostrand Theatre and is scheduled for Friday afternoon. Please note that the audience is restricted to invited members of law enforcement and the media, with all invitations being handled by the White House. Due to traffic conditions, you are encouraged to avoid the area.
Please click here for further information
Suffolk County Community College News
For Immediate Release Share This News Release
3/23/2016

Eastern Campus Student Fine Arts Exhibit Features Exceptional Works, April 9 - May 2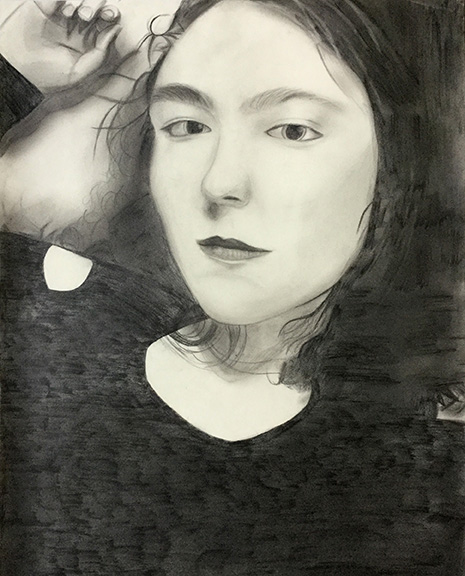 24" x 18," graphite drawing by Maureen McSherry Drawing 1 student
Art work created by students on Suffolk County Community College's Eastern Campus will be presented from April 9 - May 2, 2016 at the Eastern Campus Student Fine Arts Exhibit in the college's Lyceum Gallery. An opening reception will be held on Thursday, April 14 from 4:00 p.m. to 6:00 p.m.
The spring Eastern Campus Student Fine Arts Exhibit is a lively salon-style show highlighting exceptional art work featuring student works created in fine art disciplines including Life Drawing, Drawing, 2D Design, and Art Appreciation.  There will be over 70 works on view in a variety of media and sizes. 
Prospective students are encouraged to attend the exhibit to see the high proficiency attained by enrollees in Suffolk's Eastern Campus Art Department.
Gallery hours are Monday through Thursday from 10 a.m. to 7 p.m., Friday from 10 a.m. – 4:30 p.m. and Saturdays from 11 a.m. – 4 p.m. The gallery is closed Sundays and holidays.
For additional information, please call 631-548-2536. All are welcome.
Directions to the Eastern Campus: Take the Long Island Expressway to exit 70.  Take Country Road 111 four miles to Country Road 51.  Turn left toward Riverhead and go north on 51.  After 3.5 miles, turn right onto Speonk-Riverhead Road to the campus entrance on the right.
Last revised: 3/23/2016 Comments on this webpage, contact: Drew Biondo