The College's Michael J Grant Campus in Brentwood has been selected as the venue for a speech by President Donald Trump on the subject of MS-13 gang violence, this coming Friday, July 28th. The speech will take place in the VanNostrand Theatre and is scheduled for Friday afternoon. Please note that the audience is restricted to invited members of law enforcement and the media, with all invitations being handled by the White House. Due to traffic conditions, you are encouraged to avoid the area.
Please click here for further information
Suffolk County Community College News
For Immediate Release Share This News Release
4/20/2015

Suffolk's Dennisse Madrigal Awarded Prestigious 2015 Programma Ponte Scholarship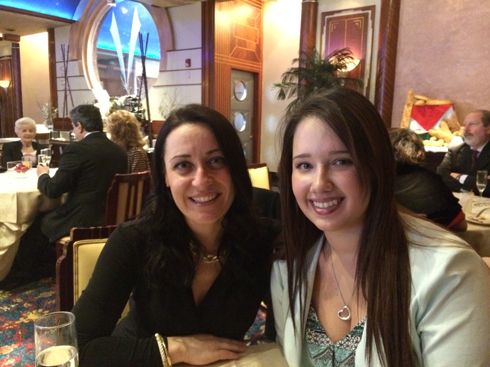 L to R: Suffolk County Community College's Dr. Annamaria Monaco, Associate Professor of Italian and Advisor of the Italian Club with 2015 Programma Ponte Scholarship winner Denisse Madrigal
---
Suffolk County Community College's Dennisse Madrigal of Babylon has been named a recipient of the prestigious 2015 Programma Ponte Scholarship sponsored by the AIAE (Association of Italian American Educators) and will travel to Rome, Italy this June.

The Programma Ponte is a four-week program of study in Rome that offers a unique academic, cultural, and linguistic opportunity for exceptional students of Italian American heritage.

Dennisse, who is currently studying Intermediate Italian, will garner first-hand experience in Italy through course work, visits to important Italian and European institutions and direct contact with the Italian culture. Denisse will be expected to establish lasting connections and develop as a multi-cultural ambassador.

Dennisse will make a presentation about her experience in Italy to her fellow students next September.
Last revised: 4/20/2015 Comments on this webpage, contact: Drew Biondo