The College's Michael J Grant Campus in Brentwood has been selected as the venue for a speech by President Donald Trump on the subject of MS-13 gang violence, this coming Friday, July 28th. The speech will take place in the VanNostrand Theatre and is scheduled for Friday afternoon. Please note that the audience is restricted to invited members of law enforcement and the media, with all invitations being handled by the White House. Due to traffic conditions, you are encouraged to avoid the area.
Please click here for further information
Suffolk County Community College News
For Immediate Release Share This News Release
4/7/2015

Celebrate Earth Day with Grammy Award Winner Tom Chapin, Eastern Campus Concert April 22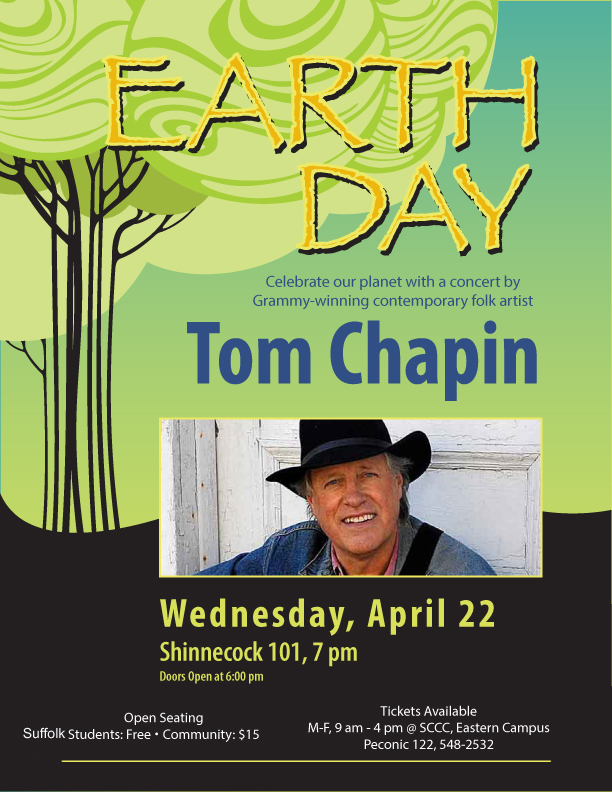 Grammy Award-winning American musician, entertainer, singer-songwriter and storyteller Tom Chapin celebrates Earth Day with a concert on the Eastern Campus of Suffolk County Community College, Riverhead on Wednesday, April 22 at 7 p.m.
Seating in the Shinnecock Building's Auditorium is open, tickets cost $15. Suffolk County Community College students are free.
Tickets are available Monday – Friday at the Suffolk County Community College Eastern Campus in room 122 of the Peconic Building. Call 631-548-2532 for more information.
Last revised: 4/7/2015 Comments on this webpage, contact: Drew Biondo