The College's Michael J Grant Campus in Brentwood has been selected as the venue for a speech by President Donald Trump on the subject of MS-13 gang violence, this coming Friday, July 28th. The speech will take place in the VanNostrand Theatre and is scheduled for Friday afternoon. Please note that the audience is restricted to invited members of law enforcement and the media, with all invitations being handled by the White House. Due to traffic conditions, you are encouraged to avoid the area.
Please click here for further information
Suffolk County Community College News
For Immediate Release Share This News Release
4/1/2015

US Postage Stamp Has Suffolk Roots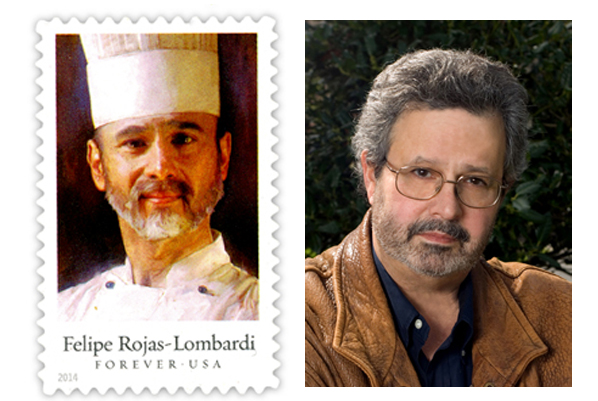 At left, The United States Postal Service Forever Stamp of Chef Edward (Felipe) Rojas-Lombardi. At right, Suffolk County Community College Professor of Photography Harold Naideau whose photo was used as the source for the chef's portrait.





When the United States Postal Service (USPS) added Limited Edition Celebrity Chefs Forever stamps to its menu last September, few people realized that one of the stamps in the series has Suffolk County Community College roots.

The five chefs honored on the stamps — James Beard, Julia Child, Joyce Chen, Edna Lewis and Edward (Felipe) Rojas-Lombardi – are depicted in a style intended to resemble oil paintings.

The USPS engaged artist Jason Seiler to illustrate Chef Felipe Rojas-Lombard's portrait and asked the deceased chef's family for photographs of the chef. It was the chef's family who directed them to Chef Felipe's good friend, Suffolk County Community College Professor of Photography and Northport native Harold Naideau who had captured images of the chef for a bestselling cookbook: The Art of South American Cooking published by Harper Collins 1991. The artist used one of Naideau's portraits of the celebrity chef to create the work that ultimately became the official stamp.

"Felipe died too young and too soon," said Naideau. "I can imagine, with his amazing personality and the recent popularity of chefs on television, that he would have had his own cooking program. He just had so much more to offer; not only to the culinary world, but to his family, friends and for the appreciation of cuisines from around the world, especially Peru and South America. I think it was all of that, the whole package, which made Felipe more than a chef, more than a great chef, but a great person. He was a good friend that I will certainly never forget; so it's more than appropriate that his portrait will grace a Forever Stamp."
---
From the USPS Web Site Announcing the Forever Stamp Series


About Edward (Felipe) Rojas-Lombardi (1946–1991)

Renowned for his creativity and culinary adventurousness, Edward (Felipe) Rojas-Lombardi (1946–1991) is widely credited with introducing the Spanish small-plate tapas concept to American restaurants while raising the profile of Caribbean and South American cuisine.

Rojas-Lombardi was born and raised in Peru. His mother was Italian, and his father was a Chilean of Spanish and German descent who hoped his son would become a lawyer. When, as the first-born son, Rojas-Lombardi was sent to live in the home of his Chilean grandmother to learn the full range of family traditions, he marveled at her ability to prepare feasts for their large family.

In the late 1960s, after a stint in law school in Peru, Rojas-Lombardi moved to New York City, where he continued to study cooking and worked as the assistant to teacher and lecturer James Beard, who served as his mentor.

By the early 1970s, the breadth of Rojas-Lombardi's culinary interests was becoming well known to the public. In addition to teaching and lecturing alongside James Beard, he also wrote a popular syndicated newspaper column about food. In 1972, he published The "A to Z No-Cook Cookbook," an illustrated collection of recipes that included sandwiches, salads and other dishes for children to prepare, while also writing a booklet about the preparation of game meat.

In the late 1970s, he served as a consultant for the Ballroom, a New York City restaurant and cabaret, later becoming executive chef and owner. There he introduced New Yorkers to the concept of tapas, the appetizer-sized dishes commonly served as snacks in Spanish bars and cafés.

In the mid-1980s, Rojas-Lombardi appeared on the PBS series "New York's Master Chefs," where he put tapas before a nationwide audience. Inspired to imitate him, chefs across the United States transformed the Spanish bar-snack concept into small dinner plates intended for sharing. In 1985, Rojas-Lombardi published "Soup, Beautiful Soup," a collection of more than 100 recipes inspired by the chef's memories of eating soup before every lunch and dinner in Peru.

Around the time he died in 1991, American food-lovers greeted his book "The Art of South American Cooking," an impressive and encyclopedic collection of recipes for soups, seafood, ceviches, empanadas, tamales and desserts that also offers vital tips on using cooking oils, making sauces and stocks and preparing seafood, produce, peppers, nuts and other specialized ingredients.

Last revised: 3/31/2015 Comments on this webpage, contact: Drew Biondo