The College's Michael J Grant Campus in Brentwood has been selected as the venue for a speech by President Donald Trump on the subject of MS-13 gang violence, this coming Friday, July 28th. The speech will take place in the VanNostrand Theatre and is scheduled for Friday afternoon. Please note that the audience is restricted to invited members of law enforcement and the media, with all invitations being handled by the White House. Due to traffic conditions, you are encouraged to avoid the area.
Please click here for further information
Suffolk County Community College News
For Immediate Release Share This News Release
3/20/2015

Bergre Escorbores, Ed.D Sworn in as New College Trustee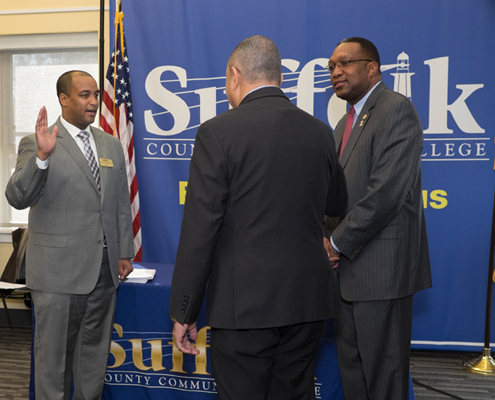 New York State Assemblyman Phil Ramos, back to camera, administers the oath of office to Bergre Escorbores, Ed.D as a Suffolk County Community College Trustee. Escorbores, of Sayville, is a principal in the Brentwood School District and replaces Belinda Alvarez-Groneman whose term expired in 2010. Suffolk County Community College President Dr. Shaun L. McKay, at right, welcomed the new trustee to the college at a Board of Trustees meeting on March 19.

Last revised: 3/20/2015 Comments on this webpage, contact: Drew Biondo