The May 2017 meeting of the College's Board of Trustees – originally scheduled for Thursday, May 18th – has been cancelled and will not be rescheduled. The next scheduled meeting date for the College's Board of Trustees is Thursday, June 15, 2017. The time and location for the June 2017 meeting is Thursday, June 15, 2017 at 10:00 a.m. in the College's Culinary Arts and Hospitality Center, 20 East Main Street, Riverhead, New York.
Suffolk County Community College News
For Immediate Release Share This News Release
2/12/2015

LIVE! From Suffolk, The 2015 NJCAA Region XV Basketball Tournament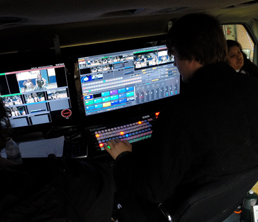 Students man the college's remote broadcast and production van

Students – more than 50 in all -- from Suffolk County Community College's Radio and Television Production program are gearing up and practicing for what amounts to their Super Bowl Sunday of broadcast production, the 2015 National Junior College Athletic Association (NJCAA) Region XV Basketball Tournament that will be hosted for the second consecutive year at the college's Ammerman Campus in Selden and livestreamed via SharksTV on the College's website to hoops-hungry fans.

Student camera operators, stage managers, switchers, audio and video technicians are preparing and practicing for the Friday, February 27 to Sunday, March 1 tournament when they will present 8 live games over the three days from five camera positions throughout the Brookhaven Gymnasium; including four instant replay angles.

Alan Bernstein, Assistant Academic Chair, Department of Communications said the experience garnered by the students is invaluable.

"This is an all hands on deck production and tremendous opportunity for our students to acquire real life production experience," Bernstein said.

Bernstein said that alumni of his program will also be involved. Among those alumni will be Eric Abram and Rich Ballato, who regularly work on professional sports telecasts in the New York area. Prior to tournament weekend, the students will lay cable, check lighting, conduct sound checks and create graphics and introductions for each of the tournament's 16 participating teams.

Suffolk County Community College has equipped student-based teams with the skills and systems needed to produce professional, top-quality webcasts, streamed over its website.

The college's remote production van is equipped with state-of the-art Newtek Tricaster 860 production systems and a Newtek 3Play 425 video record and playback system.

The student tournament webcast was watched last year by an international audience and by viewers state-wide. This year's broadcast will be available from the Suffolk County Community College homepage at www.sunysuffolk.edu during the tournament weekend.
Last revised: 2/12/2015 Comments on this webpage, contact: Drew Biondo