The May 2017 meeting of the College's Board of Trustees – originally scheduled for Thursday, May 18th – has been cancelled and will not be rescheduled. The next scheduled meeting date for the College's Board of Trustees is Thursday, June 15, 2017. The time and location for the June 2017 meeting is Thursday, June 15, 2017 at 10:00 a.m. in the College's Culinary Arts and Hospitality Center, 20 East Main Street, Riverhead, New York.
Suffolk County Community College News
For Immediate Release Share This News Release
11/13/2014

Eastern Campus' Junius Atkins Awarded Prestigious SUNY Commendation
Junius Atkins Jr., who began work on the Suffolk County Community College Eastern Campus when the campus opened 37 years ago, was recognized with a SUNY Chancellor's Award for Excellence in Classified Service at a College ceremony November 7.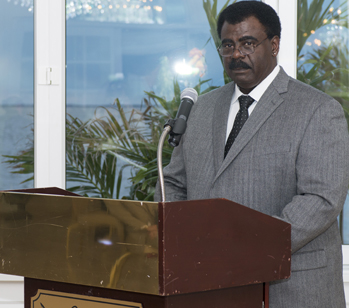 Atkins, of Riverhead, was nominated by then Director of Plant Operations Nicholas Palumbo who said, "Mr. Atkins is the ideal case study of a hands-on leader who has worked his way up the ranks to assume a supervisory role in which he is unafraid to model the hard work and physical labor that goes along with a custodial career path."

Atkins, Palumbo said, is "constantly attuned and open to new trends in what is generally considered a field with little innovation. Junius has refined and enhanced his department's function through the use of a computerized work order system, incorporated microfiber cleaning tools, adopted green cleaning products, championed digital communications equipment for all departmental staff, and embraced the use of zero emissions vehicles for campus transport."

Five Suffolk County Community College faculty and staff members were awarded The Chancellor's Award for Excellence for superior professional achievement.

"We are proud of our honorees who SUNY has publicly proclaimed its pride in," said Suffolk County Community College President Dr. Shaun L. McKay. "The individuals selected for this honor are role models within the College and the SUNY community," Dr, McKay added.

Palumbo summed-up Atkins in his nominating letter, like this:

"Finding a single person who is willing to say one negative thing about Junie is on par in futility with keeping the green pine tree pollen out of the Shinnecock Building in May. As for myself, I have but one complaint: That is the knowledge that at some point well before I am retirement eligible, he will walk into my office with his impossibly shiny black boots, hand me a crisply typed retirement announcement, and jump into his immaculate Mustang coupe never to be seen again. Before that day comes, I would like the honor of recommending him for an award that is not only well deserved, but long overdue. "

The Chancellor's Awards for Excellence are System-level honors conferred to acknowledge and provide system-wide recognition for consistently superior professional achievement and to encourage the ongoing pursuit of excellence. These programs underscore SUNY's commitment to sustaining intellectual vibrancy, advancing the boundaries of knowledge, providing the highest quality of instruction, and serving the public good. Through these awards, SUNY publicly proclaims its pride in the accomplishment and personal dedication of its instructional faculty, librarians and professional staff across its campuses.

Suffolk's Chancellor's Award for Excellence recipients are:

Faculty Service
Amy Czura, Associate Professor of Biology

Professional Service
Drew Fawcett, College Associate Dean of Institutional Advancement
Christopher Gherardi, College Associate Dean of Faculty and Professional Advancement

Scholarship and Creative Activities
Dan Gilhooley, Professor of Visual Arts

Classified Service
Junius Atkins, Custodial Worker III
Last revised: 11/14/2014 Comments on this webpage, contact: Drew Biondo