The College's Michael J Grant Campus in Brentwood has been selected as the venue for a speech by President Donald Trump on the subject of MS-13 gang violence, this coming Friday, July 28th. The speech will take place in the VanNostrand Theatre and is scheduled for Friday afternoon. Please note that the audience is restricted to invited members of law enforcement and the media, with all invitations being handled by the White House. Due to traffic conditions, you are encouraged to avoid the area.
Please click here for further information
Suffolk County Community College News
For Immediate Release Share This News Release
9/9/2014

Suffolk Earns NCMPR Medallion Awards for Top Advertising/Marketing.
The National Council for Marketing and Public Relations (NCMPR) will recognize Suffolk County Community College for marketing and advertising excellence the group has announced.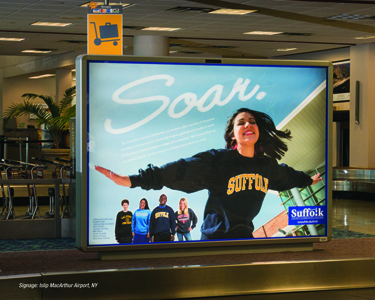 Suffolk County Community College's baggage claim branding display that was developed for the Long Island Islip MacArthur Airport took top honors in the outdoor media category.

The recognition will be bestowed upon the College at the NCMPR District 1 meeting in October with the group's Medallion Awards for the following:
Outdoor Media: Baggage claim branding display developed for the Long Island Islip MacArthur airport




 
"These kinds of award-winning communications reflect an in-house team of talented professionals who are passionate about reflecting the student experience and demonstrating how Suffolk truly transforms lives," said Drew Fawcett, Associate Dean for Institutional Advancement.


Last revised: 9/9/2014 Comments on this webpage, contact: Drew Biondo